Booking tickets
Our regular Winter, Spring and Summer concerts have for many years taken place at St Paul's Hall, University Campus, Queensgate, Huddersfield (see a map). However, in recent years we have begun to tour local churches to host our events, so please take a look at the list of forthcoming concerts to find out where we will be performing in the near future. All concerts start at 7.30pm. Winter and Spring concerts take place on a Saturday; Summer concerts take place on a Sunday.
Buying online
Please note that, from the start of our 2015–16 season, it is now possible to buy tickets for Huddersfield Singers events online via PayPal. Use the Add to Cart buttons to order your tickets and access your PayPal shopping cart by clicking the View Cart button in the bottom-left corner of the site at any time. Ticket quantities can be adjusted at the checkout stage. Online sales are easy and secure; PayPal is one of the world's largest and most reliable payment companies. However, online payment is entirely optional, and you may still contact our Ticket Secretary by telephone or email as always.
Prices
Individual concerts
| | |
| --- | --- |
| Regular single tickets: | £10 |
| Concessionary tickets: | £9 |
| Student/junior tickets: | £4 |
Additional family concessions are available; please enquire for details.
Single tickets may be purchased at the door.
Season tickets
Season tickets (for three concerts) cost £27 (concessions £24), which represents a discount of £1 per concert. Season tickets are available during the run-up to the first concert of each season (from early September to the date of the December concert).
To order
If you prefer not to buy online or wish to make a special purchase, please contact Pam Sykes by phone (01924 848624) or email (tickets@huddersfieldsingers.com) to arrange the purchase of tickets.
SEASON TICKET
WINTER CONCERT
SPRING CONCERT
SUMMER CONCERT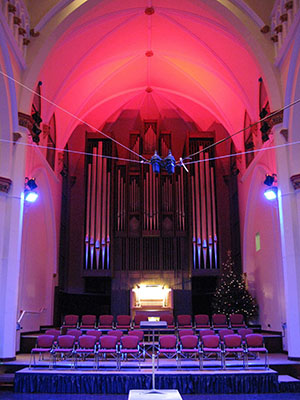 St Paul's Hall, the Huddersfield Singers' traditional centre-of-Huddersfield concert venue